Published on December 14th, 2021
On the 30th of November, Women in Green Hydrogen hosted a webinar on how a value chain approach can encourage the implementation of large-scale green hydrogen projects to decarbonise sectors like steel, aviation or heavy goods. EIT InnoEnergy's European Green Hydrogen Acceleration Center (EGHAC) co-organised the event.  
Kajsa Ryttberg-Wallgren of H2 Green Steel opened the webinar with a keynote presentation. She gave a rundown of the successful H2 Green Steel lighthouse project, which initially started as an idea on how to decarbonize the whole car production value chain. Green steel is an important starting point for decarbonising the value chain for a variety of reasons, such as increasing demand from customers in green products. The first project in Boden, Sweden, will begin operating in 2024 and is intended to be one of the world's first plants producing green steel at large scale. It will operate using the highest standards in all aspects of sustainability and decarbonisation and show the rest of the world what is possible in terms of green hydrogen production.   
"No one has done this before – produce green hydrogen to feed green iron production and finally produce green steel products – at this scale. That is truly  a challenge, and value chain partnerships are required to make it happen". – Kajsa Ryttberg-Wallgren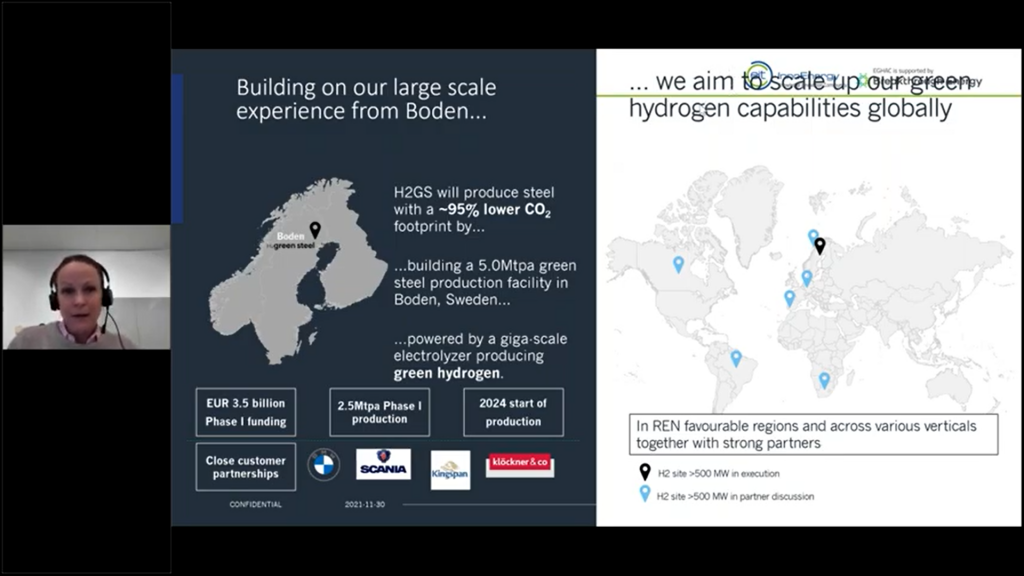 Rian Wolters (Can der Wal BV Logistics) followed the preceding discussion by highlighting the various opportunities that exist for reducing emissions. These varied from the perfectly feasible to the increasingly challenging. Optimising logistics to reduce emissions when transporting goods would not require the development of any new technologies, thus providing a relatively simple way companies can reduce emissions. She also discussed the use of hydrogen-powered trucks, which has a bigger impact on CO2 emissions, but is also much more challenging in terms of implementation as costs are currently still high. 
Berit Hinnemann (AP Moller-Maersk) provided insights into Maersk's future operations. Maersk is currently targeting carbon-neutral operations by 2050 and decarbonising their entire value-chain. The three pathways Maersk is pursuing are biodiesel, green methanol and green ammonia. Though they are each not without their challenges, there is an increasing demand for green solutions by consumers. This will hopefully transform discussions on these solutions into action.  
Noelle Fröhlich (DHL) provided updates on DHL's goals to reach their net-zero target by the year 2050. Most recently, DHL decided to reach an 80 % CO2 reduction in all global operations by 2030. Though this will be a challenge, DHL recognizes that consumers are also willing to pay premiums for green transport solutions – and has therefore already initiated several pilot programs.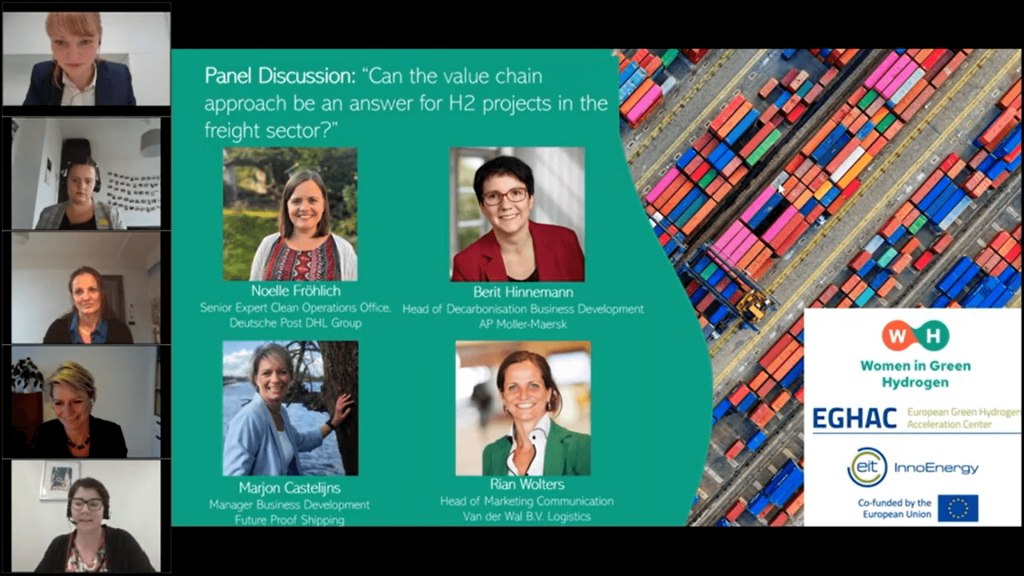 Marjon Castelijins (Future Proof Shipping) represented the relatively new company Future Proof Shipping, which was founded four years ago in order to accelerate the transition to zero-emission shipping. They are developing a fleet that will be retrofitted to run on zero-emission fuels, with their inland vessels already having achieved this step. Though there are still regulatory challenges to be faced, a vessel can be retrofitted on a pilot level as soon as financing is available.
In the concluding statements of the panelists, it became clear that what is of utmost importance for each company is finding "someone who is willing to pay". Thus, off-takers like Amazon or IKEA should reach out to the women on the panel – and have front-runners like DHL and Maersk continue to take on these innovative projects. Most importantly, though, regulations that match current emissions reduction ambitions are needed. As moderator Carina Krastel stated, "this is an international problem".
Watch the recording of the event here: