Published on November 23rd, 2021
In our webinar on November 9th, speakers and panelists discussed the role of hydrogen in reaching global decarbonisation targets. The event was jointly organised with our partner TÜV SÜD.
The event kicked off with an introduction to Women in Green Hydrogen by co-founder and moderator Jekaterina Boehning (Climate and Energy Expert at Transport and Environment). Silvia Imran, Vice President Strategic Account Management & Sales Excellence ASMEA at TÜV SÜD then introduced TÜV SÜD's Women's Network. Like Women in Green Hydrogen, the grassroots Women's Network is working on making women's expertise and competences more visible and building a better workplace for women. The network already counts more than 1000 members.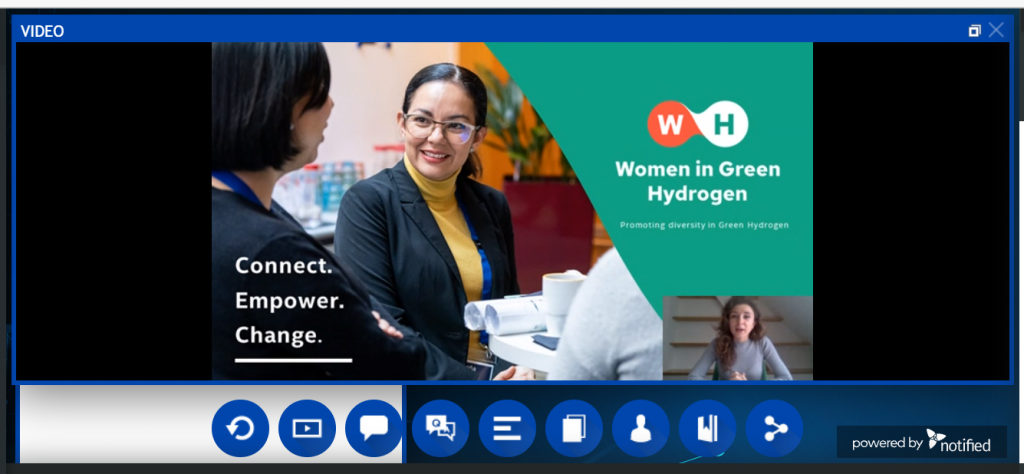 Liz Fendt (Global Chief Marketing Officer at TÜV SÜD) started the discussion by giving a keynote on why women must play a greater role at the recent COP26 summit and why their voice is crucial for climate change decisions. She emphasised that gender inequality and climate change are linked both because climate change impacts women disproportionately and because better gender balance leads to better climate outcomes. This is also evidenced in the private sector: The presence of more women in companies is linked to more sustainable business practices, for instance emissions tracking and reductions and promoting renewable energies.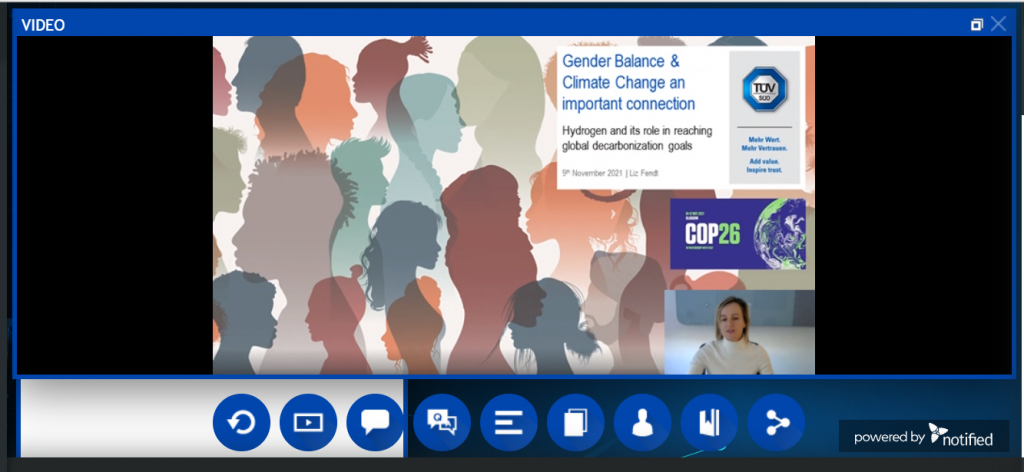 Paula-Maria Auer-Saupe (Business Line Manager Climate Action Certification at TÜV SÜD) then provided initial insights into current certification systems for hydrogen and their importance for the sustainability of hydrogen. TÜV SÜD is currently revising its green hydrogen standard CMS70, introducing two levels of certification, green hydrogen basic and green hydrogen Plus with additional certification requirements.
Then the panelists entered the discussion about the role of hydrogen in reaching global decarbonisation targets and how green hydrogen will play a decisive role in the energy transition.
There was consensus that only green hydrogen is sustainable in the long run, and it will be a scarce resource that must be reserved only for hard-to-abate sectors. These sectors include the steel, cement, ammonia, and chemical industries as well as shipping and aviation.

However, Ulrike Hinz, Policy Advisor for Climate and Energy at WWF Germany, stressed that sustainability concerns above and beyond emissions reductions should also be considered, such as responsible land use, water stress management, and social sustainability.
The availability of finance for green hydrogen was also discussed. Mona Bhagat, Business Development at KBR Advisory Consulting, highlighted that across the value chain, $150 billion in hydrogen investments have been committed i.e the final investment decision has been granted. Especially following the COP26 commitments, $130 trillion – 40% of the worlds financial assets will now be aligned with the climate goals in the Paris agreement  including limiting global warming to 1.5 deg C and it is expected there will be ample finance available for green hydrogen projects in the future.
TÜV SÜD Hydrogen Expert Katharina Kocher further added that the use of green hydrogen is currently economically limited by the high charges and taxes imposed on electricity. Consequently, the importance of a regulatory framework which internalises the environmental impact of electricity generation and supports cheap renewable energy was also discussed.
The discussion concluded with the question "If you could bring one sentence to the final resolution of COP26, what would it be?":
"We will elaborate an international certification standard for importing and exporting hydrogen which takes into account economic, social, political and environmental criteria and does not harm the individual climate strategies and targets of each country."
Ulrike Hinz, Policy Advisor at WWF Germany
You can register here to recieve the recording of the event, or watch it below.